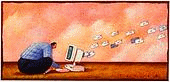 Acceptable Use Policy
Williams Genealogy - Williams DNA Project and Source Documenation Repository (referred to hereafter as 'Williams Genealogy')
Before using or subscribing to Williams Genealogy, please review the following terms and conditions, which define your rights, responsibilities, and benefits as a user of Williams Genealogy.
Williams Genealogy License and Terms and Conditions of Use
Williams Genealogy is an Internet service (the "Website") owned and operated byAdrian Williams (hereafter "we", "our," or "us"). "You" or "your" means an adult user of the Website for itself and you as parent or guardian for any minor which you allow to access the Website, for whom you will be held strictly responsible. Your use of the Website indicates that you are bound by this agreement with us. If you don't agree with any of these terms and conditions, don't use the Website. We may alter this agreement at our discretion and your continued use after any change indicates your acceptance of that change. If you don't want to be bound by a change, discontinue use of the Website.
Williams Genealogy contains graphics, information, data, editorial and, other content accessible by any Internet user (the "Content"). While much of the content (specifically source documentation records) is completely free to the public, other aspects of the website (such as graphics, layout, descriptive content and page and database design) is owned and copyrighted by Williams Genealogy and may be used only in accordance with this limited use license. Williams Genealogy is protected by copyright as a collective work and/or compilation, pursuant to U.S. copyright laws, international conventions, and other copyright laws.
Limited Use License
You are licensed to use the Content only for personal or professional family history research, and may download Content only as directly relevant to that research. The download of the whole or significant portions of any work or database is prohibited. Resale of a work or database or portion thereof, except as specific results relevant to specific research for an individual, is prohibited. On line or other republication of Content is prohibited except as unique data elements that are part of a unique family history or genealogy. Violation of this License may result in the immediate blockage of your access.
User-Provided Content
Portions of the Website will contain user-provided content, to which you may contribute appropriate content (the "Submitted Content") For this Content, the submitter is the owner, and Williams Genealogy is only a distributor. By submitting Submitted Content to Williams Genealogy, you grant MyFamily.com, Inc., the corporate host of the Website, a limited license to the Submitted Content to use, host, and distribute that Submitted Content and allow hosting and distribution on co-branded Websites of that Submitted Content. You should submit only content which belongs to you and will not violate the property or other rights of other people or organizations. Williams Genealogy is sensitive to copyright and other intellectual property rights of others. For more information concerning copyright issues, view the copyright policy. Content submitted for the purpose of commercial use, advertising or fee for service is prohibited. We will not edit or monitor user-provided content, with the exception that, to promote privacy, a visual scan will be done to suppress and omit from display information which appears in our best judgment to pertain to a living person. Williams Genealogy also reserves the right to remove any user provided content that comes to its attention and that it believes, in its sole discretion, is illegal, obscene, indecent, defamatory, incites racial or ethnic hatred or violates the rights of others. Any records removal requests within user-submitted data should be directed to the submitters of that data. In the event that a submitter dies, the content will remain online unless the family or executor of the estate removes the content using the submitter's username and password. We request that all using this feature comply with the Terms and Conditions as well as general Internet etiquette. If it is brought to the attention of Williams Genealogy that a posting violates the Terms and Conditions, that Submitted Content will be removed.
Liability Disclaimer
The information, products, and services included on this Website may include inaccuracies or typographical errors. Changes are periodically added to the information herein. Williams Genealogy provides all Content in this Website "AS IS", and without any warranty of any kind.
Williams Genealogy makes no representations concerning the suitability, reliability, or accuracy of the Content or the service provided on the Website for any purpose. We disclaim all warranties, expressed or implied, in connection with the Content and the services provided on the Website, including conditions of merchantability, fitness for a particular purpose, title and non-infringement. In no case will we be liable for any direct, indirect, punitive, special or other damages including, without limitation, lost or delay of use, lost profits, loss of data, or any other damage in contract, tort, equity, or any other legal theory, even if advised of the possibility thereof.
Williams Genealogy may, from time to time, provide opportunities to users of the Website to link to or buy services from third parties. Sites of those third parties may be subject to terms and conditions different from those found here. MyFamily.com, Inc. makes no warranty concerning third party provided goods or services and you agree that any recourse for dissatisfaction or problems with those goods or services will be sought from the third party provider and not from Williams Genealogy.
Because some states/jurisdictions do not allow the exclusion or limitation of liability for consequential or incidental damages, this limitation may not apply in part to you. IF YOU ARE DISSATISFIED WITH ANY PORTION OF THIS WEBSITE, OR WITH ANY OF THESE TERMS OF USE, YOUR SOLE AND EXCLUSIVE REMEDY IS TO DISCONTINUE USING THIS WEBSITE.
Additional Registered Member Terms
1. Registration and Security:
Registration of e-mail address as well as selection of a password and Membership name

("Usernames") are required to use some portions of this site. You must provide Williams Genealogy with accurate, complete, and updated registration information. Failure to do so will breach this Agreement. You understand that you may not (i) select or use a name of another person with the intent to impersonate that person; (ii) use the Rights of any person other than yourself without authorization; or (iii) use a name that we, in our sole discretion, deem offensive. As you submit information, you understand that Williams Genealogy is owned and operated by Adrian Williams. The Site is operated in the United States of America and operated to be in compliance with the laws of the United States. Access is governed by these terms and conditions under the laws of the State of Missouri and the United States. Registration as a user of or subscriber to the Sites or services provided on it results in your customer information being stored and processed in the United States, and you, in registering or subscribing, specifically consent that storage and processing. You may access that information at any time to confirm its correctness and to keep it current in connection with your registration or subscription. If you are subscribing or registering for use of this site from outside of the United States of America, you consent to the storage and processing in the United States of the personal data you submit, within the scope of the PRIVACY STATEMENT of Williams Genealogy. You may and should review and correct this information regularly.

You shall notify us by regular mail or by e-mail of any known or suspected unauthorized user(s) of your account, or any known or suspected breach of security, including loss, theft, or unauthorized disclosure of your password. (b) You will be responsible for maintaining the confidentiality of your password. You will never be required to reveal your password to any representative or agent of Williams Genealogy, its owners or agents.

You are responsible for all usage or activity on Williams Genealogy via your password account. Distribution of your password for access to Williams Genealogy is expressly prohibited and shall constitute a breech of this Agreement. Any fraudulent, abusive, or otherwise illegal activity may be grounds for termination of your account, at our sole discretion, and you may be referred to appropriate law enforcement agencies.
2. Modifications to this agreement and the website
Williams Genealogy has the right, at its sole discretion, to modify this Agreement or the Website at any time. Changes in service will be posted in the Williams Genealogy FORUM boards. In addition to this general acceptable use policy, other specific policies may apply to websites, mailing lists, message boards, and other facilities at Williams Genealogy. Continued use of the service now or following posted notices of changes in this Agreement means that you have accepted and are bound by the changes.
3. Miscellaneous
This Subscriber Agreement is governed by the law of the State of Missouri, without regard to its principles on conflicts of laws, and the federal law of the United States of America. Any action to enforce this Agreement shall be brought in the federal or state courts located in Kansas City, MO.

Official correspondence must be sent via postal mail to:

Adrian Williams
3799 East 400 Road
El Dorado Springs, MO 64744