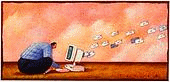 Privacy Statement
Williams Genealogy - Williams DNA Project and Source Documenation Repository (referred to hereafter as 'Williams Genealogy')
Privacy Information for Williams Genealogy
Adrian Williams owner and operator of Williams Genealogy, recognizes the confidentiality of information that may be disclosed by members during the normal use of this website and is firmly committed to protecting your privacy. The following discloses the information gathering and dissemination practices for this site.
Overview:
The personal, private information that is provided to Williams Genealogy by individual members is not provided to unrelated third parties except in rare cases involving possible violations of our use policies or legal statutes. We do collect some data, always with your knowledge and consent, that is used to enhance content to better meet the needs of our users.
Information submitted by you online (such as your name, address, e-mail address) may be shared with companies with which Williams Genealogy has a relationship (such as Family Tree DNA) and through which you reached this site. In such circumstances you will be considered their customer as well. If you object to such use, you may opt-out by e-mail request. Under no circumstances will Williams Genealogy share with any other party your password or other personal information it may acquire about children, family, etc.
Additionally, Williams Genealogy will also share the email addresses of all Wiliams Surname DNA Project participants with other partipants in an effort to foster communication in the project. However, it will not be shared, without your consent, with individuals who are not registered project participants.
The specifics of this Privacy Policy are best described in the answers to the following Frequently Asked Questions:
Does Williams Genealogy provide genealogical information on living individuals?
Williams Genealogy recognizes the importance of safeguarding information as it relates to living individuals and every effort is made to ensure that personal information (in combinations specifically protected by the Privacy Act of 1974) is not placed in the public domain. However, because this is a contribution syle website and much of the content is submitted by individuals, Williams Genealogy cannot make any specific guarantees that private information will not be posted.
Does Williams Genealogy ask for personal information?
In some cases, personal information is required to use Williams Genealogy features. In these cases, Williams Genealogy asks for your name, e-mail address, and other limited personal information when you register and use features such as the message boards, and requesting financial assistance for DNA project participation. Most of this information may be entered at your discretion.
How Does Williams Genealogy use my personal information?
Our goal is to provide you with the most personalized, relevant, user-friendly Web experience possible. The primary use of all your personal information is to efficiently provide you with relevant information. Williams Genealogy will only use registration information to address customer service needs and requests.
Will Williams Genealogy disclose any of my personal information to third parties?
Williams Genealogy will not disclose any of your personal information, except with your knowledge and consent as described in this policy or as may be required by law, or to protect the rights or property of Williams Genealogy. Williams Genealogy does reserve the right to disclose aggregated user statistics, such as "45% of our users are female" or "47% of our users have attended college" in order to describe our services.
Additionally, if you click away from Williams Genealogy to visit the site of any third party advertiser or sponsor, you may be asked for your credit card or other personal information in order to purchase or use products and services offered. These companies have their own privacy and data collection practices. Williams Genealogy has no responsibility or liability for these independent policies. You should therefore review their privacy policies carefully if you have concerns about how your information may be used.
Will Williams Genealogy use my information for direct mailings?
Williams Genealogy may, on rare occasions, send electronic mail to you, for the purpose of informing you of changes or additions to Williams Genealogy.
May I refuse to provide personal information to Williams Genealogy or to accept advertising?
Visitors may access Williams Genealogy services without providing any personal information. To gain full access to certain features, a username, e-mail address and appropriate personal information are required.
Does Williams Genealogy use "IP Addresses" and cookies?
IP Addresses:
We do use your IP address to help diagnose problems with our server, and to administer our website. Your IP address may also used to gather information neccessary to correct inappropriate use of the website.
Williams Genealogy Cookies:
Contrary to popular myth, cookies do not extract private or personal information from your computer's memory, but rather, record only information you volunteer to us upon registering or visiting the site. Cookies are tiny files placed onto the hard drive of your computer when you register at our website that enable our server to recognize or "remember" who you are each time you return. Williams Genealogy may make limited use of cookies to deliver content specific to your interests. For instance they may be used to retain your personal preferences, hold session information for a "shopping basket," or save your password so it doesn't have to be re-entered each time you login.
Advertiser Cookies:
The Williams Genealogy website is not advertiser supported and does not employ any type of Advertiser Cookies whatsoever.
Contacting the Website
If you have any questions about this privacy statement, the practices of this site, or your dealings with this website, you can contact:
Adrian Williams
3799 East 400 Road
El Dorado Springs, MO 64744